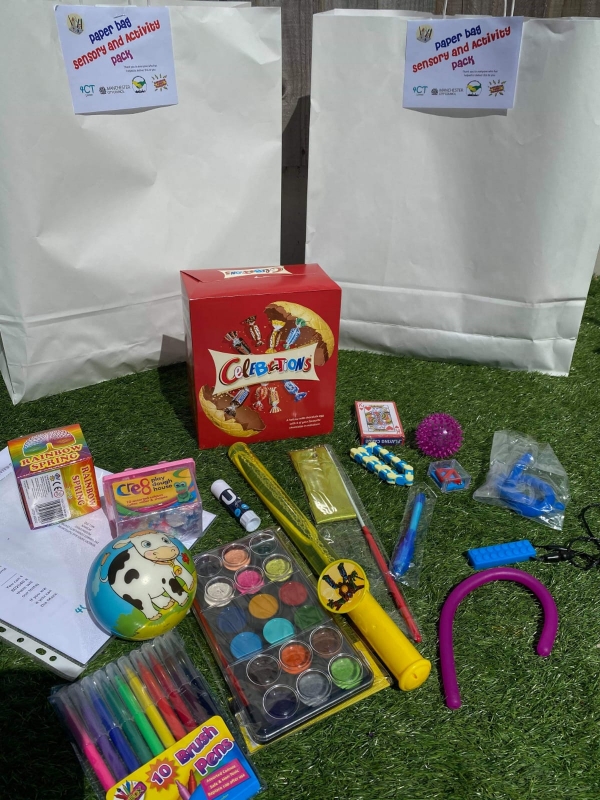 We know that many families of children with Special Educational Needs and/or Disabilities (SEND) are having issues managing their children's sensory integration needs while the children out of school and having little or no access to services that can help meet these needs. A lot of us SEND families are also wanting for things to do with the children during the lockdown, which can be extra hard due to our children's complex needs.
It is for these reasons that we thought of doing the "Paperbag Sensory and Activity Packs".
The Paperbag Sensory and Activity Packs contain colouring materials, small games & toys, and sensory items such as ribbon wand, slinky, textured ball and chewy/stretchy toys. It also includes a "Thank you, NHS" card that your child can colour in, which we can send to the Manchester Nightingale Team or families can give to their own NHS Hero.
After the successful pilot of the programme – which was the result of a fruitful collaboration between the forum, Manchester City Council's Local Offer & Short Breaks teams, and 4CT Limited – we are pleased to say that we are now able to accept self-referrals from parents & carers of children and young people with SEND in Manchester.
To apply, please complete the form below:
We asked participating organisations/teams in last month's Virtual SEND Local Offer Drop-in to collate questions that parents asked them so we can share the information to more parents & carers. Below are the questions that parents asked at the May SEND Drop-in (click or