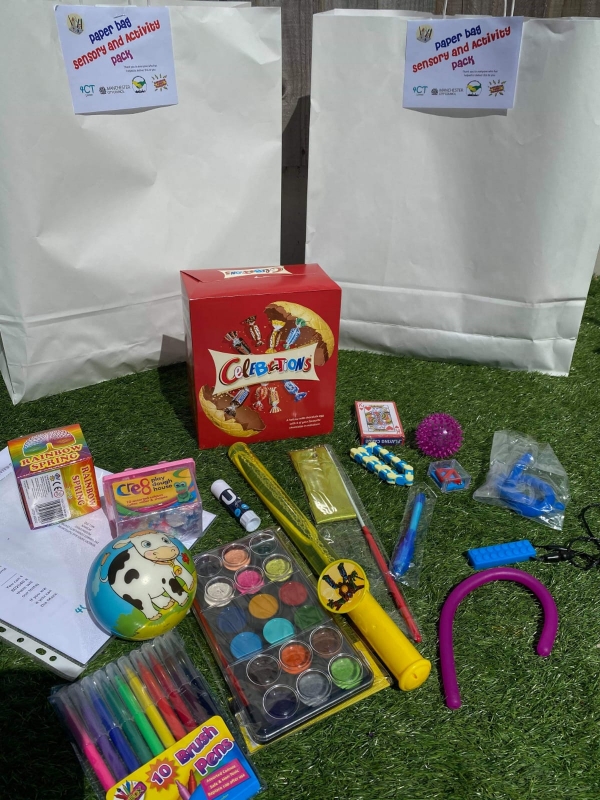 We know that many families of children with Special Educational Needs and/or Disabilities (SEND) are having issues managing their children's sensory integration needs while the children out of school and having little or no access to services that can help meet these needs. A lot of us SEND families are also wanting for things to do with the children during the lockdown, which can be extra hard due to our children's complex needs.
It is for these reasons that we thought of doing the "Paperbag Sensory and Activity Packs".
The Paperbag Sensory and Activity Packs contain colouring materials, small games & toys, and sensory items such as ribbon wand, slinky, textured ball and chewy/stretchy toys. It also includes a "Thank you, NHS" card that your child can colour in, which we can send to the Manchester Nightingale Team or families can give to their own NHS Hero.
After the successful pilot of the programme – which was the result of a fruitful collaboration between the forum, Manchester City Council's Local Offer & Short Breaks teams, and 4CT Limited – we are pleased to say that we were given a grant by Forever Manchester through their Community Support Fund. Through this grant, which was kindly match-funded by Manchester City Council, we were able to deliver a second batch of packs to 300 more families.
Following the success of the first two runs of this project, the city council has now funded 5000 sensory kits for all children and young people in the city with an EHC (Education, Health and Care) Plan. This is a very welcome support for these families, specially with the upcoming summer holidays.
We would again like to thank all partners – Manchester City Council, Forever Manchester, 4CT Limited, IASM (Information, Advice and Support Manchester), and the Parent Champions – for their involvement in this project.
We regret to say that the scheme is now closed for referrals.
If your child is a young person aged 13 to 25 years who identifies as neurodivergent, why not check out Starling's "Creative Take Aways" scheme?
We are sorry to say that this project is now closed for applications, as all Christmas Sensory Boxes have now been allocated. This holiday season, we are partnering with 4CT Limited to deliver "Christmas Sensory Boxes" to SEND families in Manchester. It's like
Back in early May, we shared an idea with some Manchester City Council partners about producing sensory kits for SEND (Special Educational Needs and/or Disabilities) families across the city. We thought of the project because we've heard that many families are having issues managing their
Over the past couple of weeks, a few dozen families of children and young people with Special Educational Needs and/or Disability have been getting Paperbag Sensory and Activity Packs delivered to their doorstep. (P.S. With social distancing strictly observed) These packs
Over the past year, the pandemic has limited the things that we can do and the places we can visit. We know that many children & young people with Special Educational Needs and/or Disabilities (SEND) - and their families - are eager to get