We are in the position to partner with OurBoards CIC, which produces visual communication boards for people with hidden disabilities.
They have recently received funding to offer a project which will give FREE boards and online training in the use of the boards to members of Parent Carer Support Groups, and the forum is one of those which will benefit from this project.
All the details you need to know about how to obtain your free board can be found in the attached flyer. Or please read on for more details. You need to book through Eventbrite AND attend the online workshops in order to obtain your board.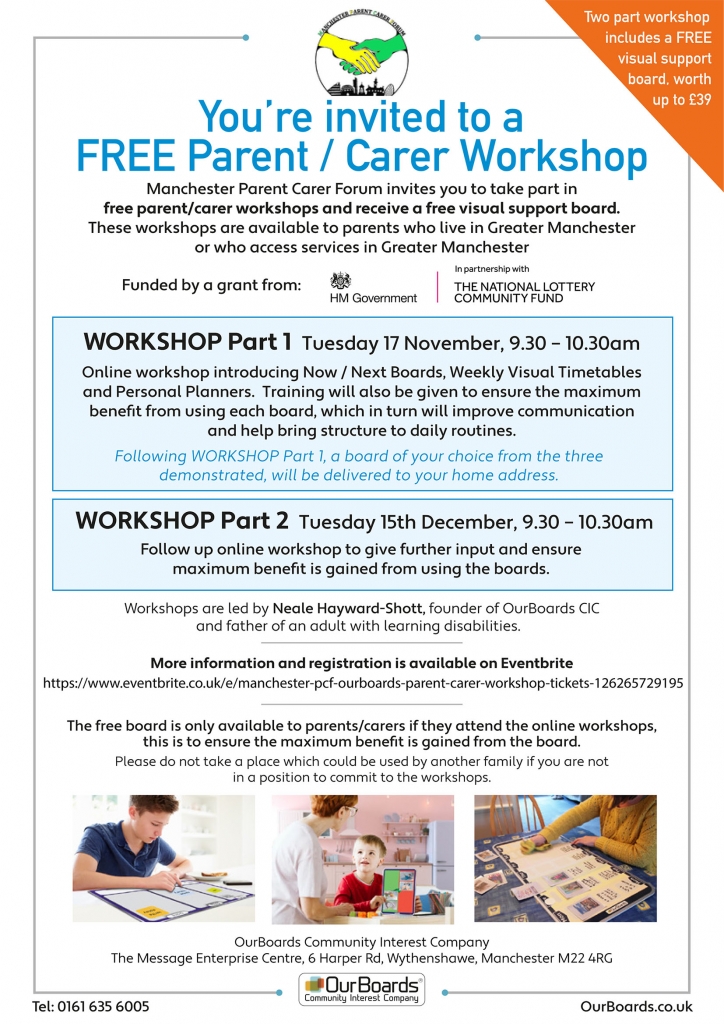 This event is for Workshop#1: An online workshop introducing Now / Next Boards, Weekly Visual Timetables and Personal Planners.
Following this workshop, a board of your choice from the three demonstrated, will be delivered to your home address.
Workshop#2 will cover training to ensure the maximum benefit from using each board, which in turn will improve communication and help bring structure to daily routines.
You need to book via Eventbrite and also attend Workshop#2 to be eligible for this offer.
The Project has already been successfully completed with a number of other parent groups and we know from seeing their endorsements how grateful their own parents have been to receive this support for their children, so do take the opportunity to get involved.
Places are limited and on a first come first served basis but please only book a place if you are able to commit to the workshops.