ANNOUNCEMENT: Please note that, due to the Covid-19 situation, this event has been cancelled.
Here is the message from Manchester City Council's Parental Engagement Officer:
Dear all

We have taken the decision to cancel our next Send Drop In on the 25th of March and all other events until further notice due to the health & safety of attendees during the coronavirus outbreak. I'll be in touch when things start to improve.

Best Wishes

Mona Bhabuta
Parental Engagement Officer
We, together with the Local Offer team, are currently trying to arrange a virtual drop-in so please stay tuned if you were looking to attend this drop-in session.
In the meantime, if you are looking for any particular information, please feel free to contact us about your query. We will try to help and/or signpost you to the relevant service/organisation that can help. Alternatively, you can visit the Manchester SEND Local Offer website, where information about services, activities, events and support may be available.
Join us and various SEND organisations & service providers at this month's SEND Early Help Local Offer coffee morning, which will be held at Woodhouse Park Lifestyle Centre, from 10am – 12pm on Wednesday, 25 March.
It's an excellent opportunity to chat with or learn more about:
Or visit our stall, tell us your story and we will try to signpost you to relevant groups or services that may be able to help. Or just simply enjoy a warm brew with us. 🙂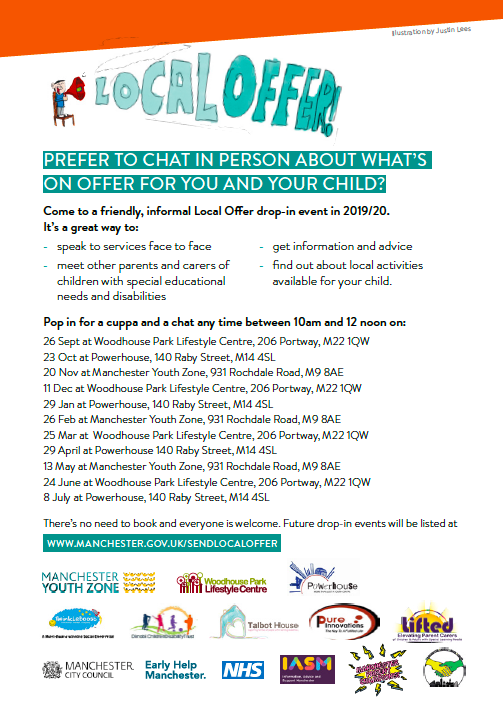 Click here for information about future SEND Early Help Drop-ins across Manchester or to learn more about the SEND Local Offer in Manchester.