The SEND Local Offer Drop-ins are a great way for parents & carers of children or young people with Special Educational Needs & Disabilities (SEND) to find relevant information and support. Friendly and informal, please feel free to share your stories and ask questions.
The drop-ins are usually attended by the following organisations, subject to their availability:
Manchester Parent Carer Forum

We'll be on hand to listen to your stories and questions. We will try to help and signpost you to the relevant services and organisations who may be able to give you expert advice and support.

The SPACE Team will also be there to speak to you about the wonderful parent/carer support group that they regularly run.

Local Offer Engagement Team

Manchester City Council's Local Offer team organises and hosts these drop-ins. You can talk to them about what's going on in and around Manchester, including how to find important SEND information via the Local Offer.

AFRUCA – Family Support Service

Early Help Hub

Greater Manchester Youth Network (GMYN) / Travel Training (Phil Samphire)

Lifted Carers Centre

Manchester Parent Champions

Manchester Sensory Support Service (for children with hearing or vision loss)

One Education (Educational Psychologists)

Educational psychologists from One Education will be doing 30-minute one-to-one sessions via :

10-10:30am
10:30-11am
11-11:30am
11:30am-12pm

Please reserve your exclusive time slot through the button below:

Pure Innovations

Rodney House Outreach Service for Early Years (RHOSEY)

Short Breaks Team

SENDIASS (SEND Information, Advice and Support Service) Team
The drop-ins normally happen on a rotating basis across North, Central and South Manchester.
Face-to-face drop-ins will resume starting on February 2022. However, this may change depending on future Covid restrictions.
Please follow our Facebook page and/or subscribe to the SEND Local Offer newsletter for further announcements.
Future SEND Early Help Local Offer Drop-ins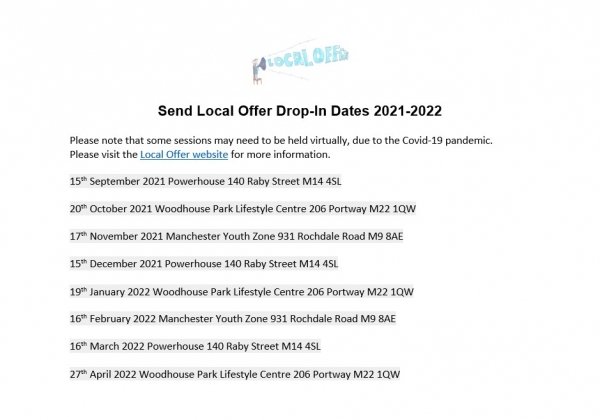 Click here for information about future SEND Local Offer Drop-ins across Manchester or to learn more about the SEND Local Offer in Manchester. Please note that, due to the coronavirus situation, we may need to replace future drop-ins with virtual sessions.