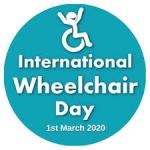 Today, March 1st, marks International Wheelchair Day – a great opportunity for those who use wheelchairs to celebrate and promote all things wheelchair-related, including accessibility, activities, lifestyle and to also create awareness of the fact that there are tens of millions of people across the world whom require a wheelchair but are unable to access one.
For more information about International Wheelchair Day, please visit the website or Facebook Community page.
To celebrate International Wheelchair Day, we wanted to provide you with information about an exciting, world-class wheelchair sports event that is taking place here in Manchester – and is specifically open to beginners.
UK Wheelchair Moto Cross and Adaptive Skate Jam 2020
Date: Saturday 21st of March, 2020
Time: 6:00pm-10:00pm
Location: Graystone Action Sports, Brunel Avenue, Salford, M5 4BE
Cost: A £10 registration fee to join the Graystone Action Club is required beforehand
Booking Required? Yes – register your interest by emailing info@lilyricewcmx.com (or phone 07854811046)
An extraordinary opportunity for wheelchair users of all ages and abilities to take-part in beginners sessions of Wheel Chair Moto Cross (or WCMX) – a thrilling new sport that involves taking your wheelchair to a skatepark and learning to perform tricks. The event also includes adaptive skateboarding, which will be a relative first for the UK.
The event is hosted by Lily Rice – the young, multi-award-winning WCMX World Champion from South Wales, who is blazing a trail for all young people in the world of Wheelchair Moto Cross.
Everyone is welcome, of all ages and skill-levels, and excitingly, the event will be filmed by BBC 1 for a forthcoming documentary.
Please note you will need to bring your own equipment for the day including protective accessories (helmet, knee and elbow pads, gloves), your wheelchair, and skateboard if desired.
This is a rare, momentous opportunity to experience the thrill of WCMX and to also meet like-minded people and hopefully make some new friends!