The coronavirus pandemic has brought about plenty of changes to our life, significantly affecting our ability to access the community. While this has been difficult for everyone, it can sometimes be even more difficult for families of children and young people with Special Educational Needs and/or Disabilities (SEND).
Social distancing and wearing face coverings, among other things, may be extremely difficult and stressful – and perhaps even physically not doable or dangerous – for some of our SEND children, as it is perhaps for some of us adults.
With this in mind, we worked with Manchester City Council in producing a "Reasonable Adjustments Card" that describes some of these challenges and politely requests to be supportive.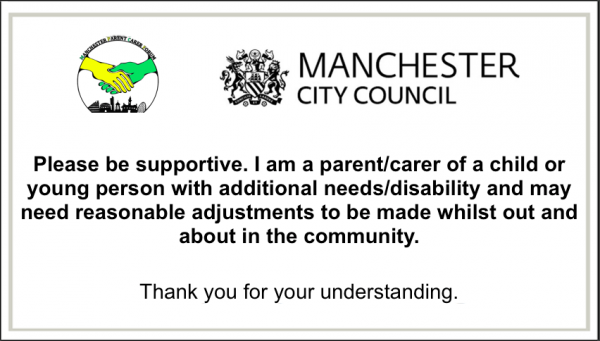 The front of the card is a short request that reads:
Please be supportive. I am a parent/carer of a child or young person with additional needs/disability and may need reasonable adjustments to be made whilst out and about in the community.

Thank you for your understanding.
The back contains a more detailed list of possible situations that may require reasonable adjustments.
Both sides contain MPCF's and Manchester City Council's logos to make it clear to others that this request is supported by the local authority, in recognition of the possible difficulties that SEND families face when out and about.
The PDF download contains 10 sets of business card-sized Reasonable Adjustments Cards, which you can then print back-to-back at home.
If you need a bigger, individual versions of the card, please tap the images above and download them into your phone or computer.
Reminder
For everyone's safety and wellbeing, please follow social distancing and other guidelines whenever possible.
Acknowledgements
Huge thanks to Manchester City Council's SEND leadership for supporting this initiative and for allowing us to use the council logo.
We would also like to thank Trafford Parents Forum for providing an inspiration for this card.