This coming weekend is cram-packed with a plethora of fun, inclusive and truly creative activities for children of all ages in Manchester. Whether your child loves dancing, music or art – we have for you here a list of different events, happening across the city, that are all based in perfect spaces that allow your child to really express themselves, whilst feeling supported and relaxed.
Also included in this list is a fantastic offer for carers and how you can acquire deeply discounted tickets for Manchester's contemporary art, theatre and film centre, HOME.
For more information about weekly activities available across Manchester, please visit the Local Offer website, where you can create a bespoke list based upon your child's specific age and interests.
Saturday 16th March
Billy and Andy are quite well-known in the SEND (Special Educational Needs and Disability) world for their inclusive, fun and supportive music sessions for children of all ages. Each Saturday morning during term-time at Chorlton High School, Billy and Andy offer two relaxed music-making sessions – the first (10am-11am) is aimed at younger children, and is brimming with nursery rhymes, tambourines and a plethora of innovative, inclusive and accessible musical gadgets and gizmos that ensure everyone can take part and have fun! Billy and Andy understand the communication issues younger children with SEND may have, so use PECS and picture choices for songs, alongside welcome and goodbye sing-a-longs to ensure your child is aware of the session's start and end.
The later session (11am-12pm) is aimed at young people ages 13-19 and takes a slightly more structured, yet still utterly awesome approach to creative music-making!
Sessions are not charged individually, but a termly subscription of £42 is charged by One Education, and allows access to a number of group sessions. However, Billy and Andy are always open to you and your child attending for a taster session to see if it is suitable. Sessions run during term time only.
Next Session – Saturday 16th March 10-11am for younger children, 11am-12pm for ages 13-19.
Manchester Art Gallery is offering free, monthly creative workshop sessions that provide children with autism and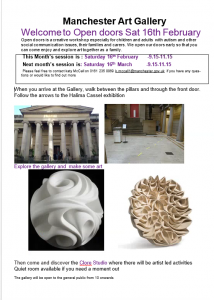 other social communication-based disabilities, the opportunity to explore the galleries before the general public. Once you and your family have had chance to peruse the abundance of wonderful art on offer at Manchester Art Gallery, there are then opportunities for all the family to partake in artist-led activities in the Clore Studio.
The gallery will open to the general public at 10am, so this allows you around 45 minutes to explore at your leisure before attending the workshops. A Quiet Space is available for any children who may need to access it.
This month's session : Saturday 16th March 9:15-11:15am.
Mossa Movement Dance Class – 3:30-4:30pm, Whitworth Art Gallery Grand Hall, M15 6ER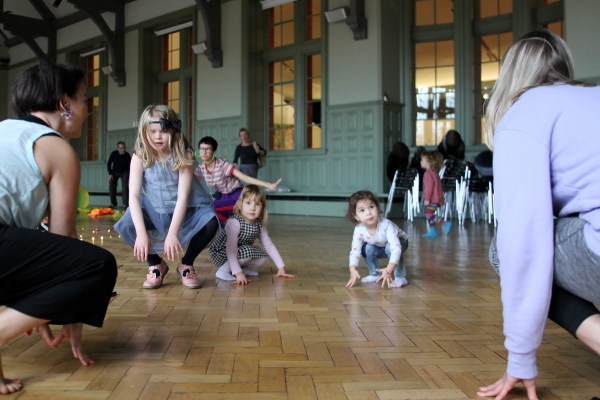 Mossa Movement is a relaxed, inclusive dance session hosted by the lovely Bryony, that allows your child to move freely and dance as they wish, whilst being supported and encouraged by Bryony and her assistant. Mossa Movement includes various sensory-related activities and lots of fun, upbeat music along with a cool-down activity to finish the session. Hosted in the aptly-titled Great Hall of the Whitworth Gallery, each session is donate-as-you-wish and lasts an hour. It is also a fantastic opportunity for all the family to browse the Whitworth galleries and exhibitions before the session.
Next Session : Saturday 16th March 3:30-4:30pm
Then : Saturday 6th April 12-1pm
Ages 3+
Sunday 17th March
Z-arts' free family fun day offers an inclusive environment for families with SEND to explore their creativity – whether it's arts and crafts, dance, drama, or music. A BSL interpreter will be at Z-access, as well as Z-arts' own trained staff and facilitators. They also have a sensory space and a time-out space for those that need it.
As part of the event, families can also join a relaxed performance of "A World Inside a Book: Gruffalos, Dragons and Other Creatures" at 10am (tickets £6 – £7) and of "Four Go Wild in Wellies" at 11am (tickets £5 – £6).
The event starts at 10am and lasts 4 hours. The fun day is free to attend but booking is required, and entry to the relaxed theatre performances have corresponding charges.
Accessible Drama Workshop for Young People Ages 11-18 – 2:30-4:30pm, Z-arts, M15 5ZA
The Accessible Drama Workshop on offer this weekend at the Z-arts centre is specifically aimed at young, disabled people, giving them the opportunity to demonstrate and hone their inner creative talents in the form of expressive drama sessions. Participants will be guided through the two hour session by actors Melissa Johns and Ged Mulerin from TripleC – a creative collective of disabled and non-disabled artists who aim to inspire, build confidence and empower people with disabilities to have the opportunity to express themselves and pursue their true artistic desires via theatre and drama.
The session starts at 2:30pm and lasts two hours, is free to attend and even includes free cake!
Finally – £1 Theatre Shows for Carers at HOME
Manchester Carers Centre are working with HOME Manchester to provide registered, unpaid carers with discounted £1 tickets for any theatre production at HOME.
To take advantage of this fantastic offer call Manchester Carers Centre on 0161 272 7270 with show details – a full show listing can be found on the HOMEMcr website.